hello today we are going to learn how to Whiten Teeth in Photoshop in Photoshop . this is really easy tutorial to follow . Lets start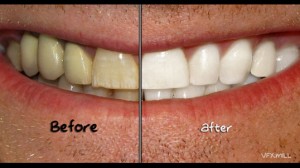 You can also Checkout Video Tutorial on Whiten Teeth in Photoshop. You can find Video tutorial – End on this page .
Step 01 : Open your image in photoshop for this teeth whiten tutorial.
Step 02:
Before you start editing on image make sure you duplicate the original image.Press CTRL + J on keyboard  to duplicate selected Layer or Right click on background image and choose duplicate.
Step 03:
Select any selection tool and make selection around teeth.we can use this selection as a mask because we don't want to affect any other part of image.
after making a selection we need to Refine edge of selection.For this we have to go in Selection > Refine Edge (ALT + CTRL + R).
Refine Edge Setting dialog box is pop up.Here give some smoothness value and feather value and hit ok
Step 4:
Create a Group.Press CTRL+G On keyboard to crate a group.
Step 05 :
Select Group and press Create a Mask button. it will convert your selection to Group mask.See image below.
Step 06 :
Your selection is now apply on Group as a mask.
Step 07 :
Now select group and apply hue/saturation adjustment layer.
Step 08:
In hue/saturation setting reduce the saturation value ( To remove the yellow tint of teeth ). also increase Lightness value a little bit.
Step 09 :
Select Group and apply adjustment layer – Levels Adjustment .
Step 10 :
In Levels adjustment setting click on middle point and drag left side to increase teeth Brightness.
Video Tutorial